How to Use TikTok for B2B Marketing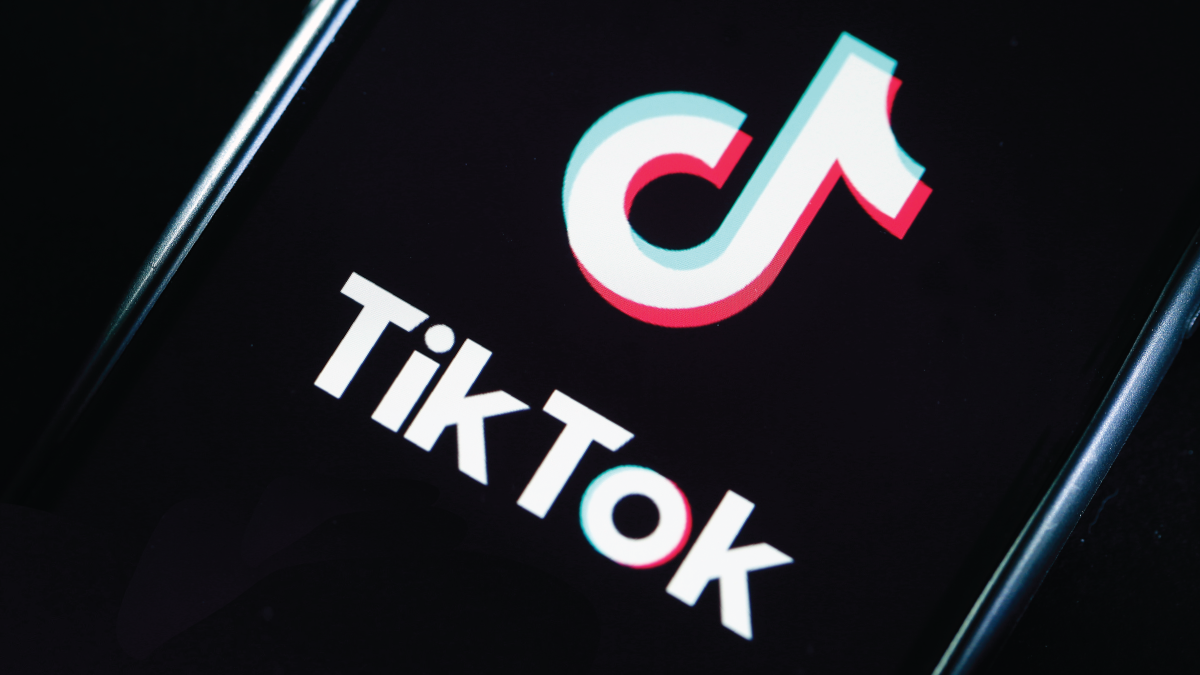 While many businesses use Instagram, Facebook, Twitter, and LinkedIn to promote their content, so many have yet to explore TikTok as a viable social platform.
If you're running a business, or just looking to grow your personal following, it's important to know what TikTok has to offer. It's no longer just dance videos and challenges, it has evolved to become everything. Spend some time on the platform and you'll see why it's so popular.
Most social platforms are social based. TikTok is not. TikTok is interest based.
Think about your friends on Facebook and your connections on LinkedIn, both are predicated on people you know. But the people you know may not have the same interests as you. Therefore, their content may not be relevant or engaging to you.
TikTok de-emphasizes your following and instead learns about your interests and serves you content you are likely to enjoy. This can evolve over time. Today you may be into sneakers and travel, tomorrow you may be into real estate and conspiracy theories.
This is why they have two feeds:
Your following (accounts you follow)

For You (accounts that match you interests)

On Instagram and YouTube, your followers decide if your content is hot or not
Instagram and YouTube, understandably, want to create a good user experience. 
So, when a user logs in, they see the best content that will keep them engaged on the platform longer.
Therefore, the way the algorithm works on Instagram is that when you post a piece of content, Instagram first shows it to your followers. Depending on the engagement, the algorithm will decide to show it to more people, or less people.
This amounts to your following deciding whether your content is hot or not.
If your content is getting good engagement, then it sends a signal to the algorithm to promote it to a broader audience typically to people who live nearby such as your city. Then if those people like it, it expands the audience even further to your country, then neighbouring countries, then the world.
Since your following becomes the gatekeeper so to speak, it's generally not a good idea to post the same type of content. They will get bored of that and engage with it less and less. Thus penalizing you from every moving past that gate.
TikTok doesn't work this way.
On TikTok, random strangers decide if your content is hot or not
When you post on TikTok, it shows your post to everybody and random strangers determine whether your content is hot or not. This amounts to you getting a lot more reach.
While Instagram's algorithm doesn't generally reward users who post the same types of content, TikTok doesn't have this issue. With TikTok, you can post the same kinds of videos over and over since every time it's going to a largely new audience who may not be aware of your previous posts.
So you don't run the same risk of over saturating and fatiguing your audience.
On TikTok, you can also post anything and there's less consideration for how good your feed looks. Whereas on Instagram and YouTube, your feed aesthetic is very important. People expect higher production value with polished thumbnails.
One common criticism with TikTok is that since you're exposing your content to the world, there are a lot more rude and offensive comments. So be mindful of that.
Sucess Metrics for TikTok
The metrics that TikTok uses to determine whether your video gets pushed out to a larger audience are:
Watch time
Shares
Saves
Comments
Likes
The algorithm prioritizes watch time because it's main objective is to keep people engaged on the platform. So here are some watch time guidelines your videos need to have in order for the algorithm to push it our to a larger audience:
>15 second videos require 100% watch time to count as 1 view
16-30 second videos require 75% watch time to count as 1 view
31-60 second videos requre 50% watch time to count as 1 view
Another fundamental difference of TikTok's algorithm is that Instagram heavily favours original content. Accounts that aggregate content will not be rewarded.
TikTok on the other hand heavily favours trend jacking – taking the latest dance craze, song, challenge, etc. and getting in on the action. This UGC (user generated content) doesn't need to be original. It's more about contributing to a community of content creators.
If you can catch one of these trends that are on the come up, then you can gain a lot of traction.
Here's how you find out what's trending in your niche (for this example, we'll look at "Cybersecurity"):
Type search term in Search
Click on Filter
Choose Last 3 Months
Choose Most Liked
Click Apply
Search through Users, Videos, Sounds, Hashtags and take note of what is trending
Craft your plan to create content around these trends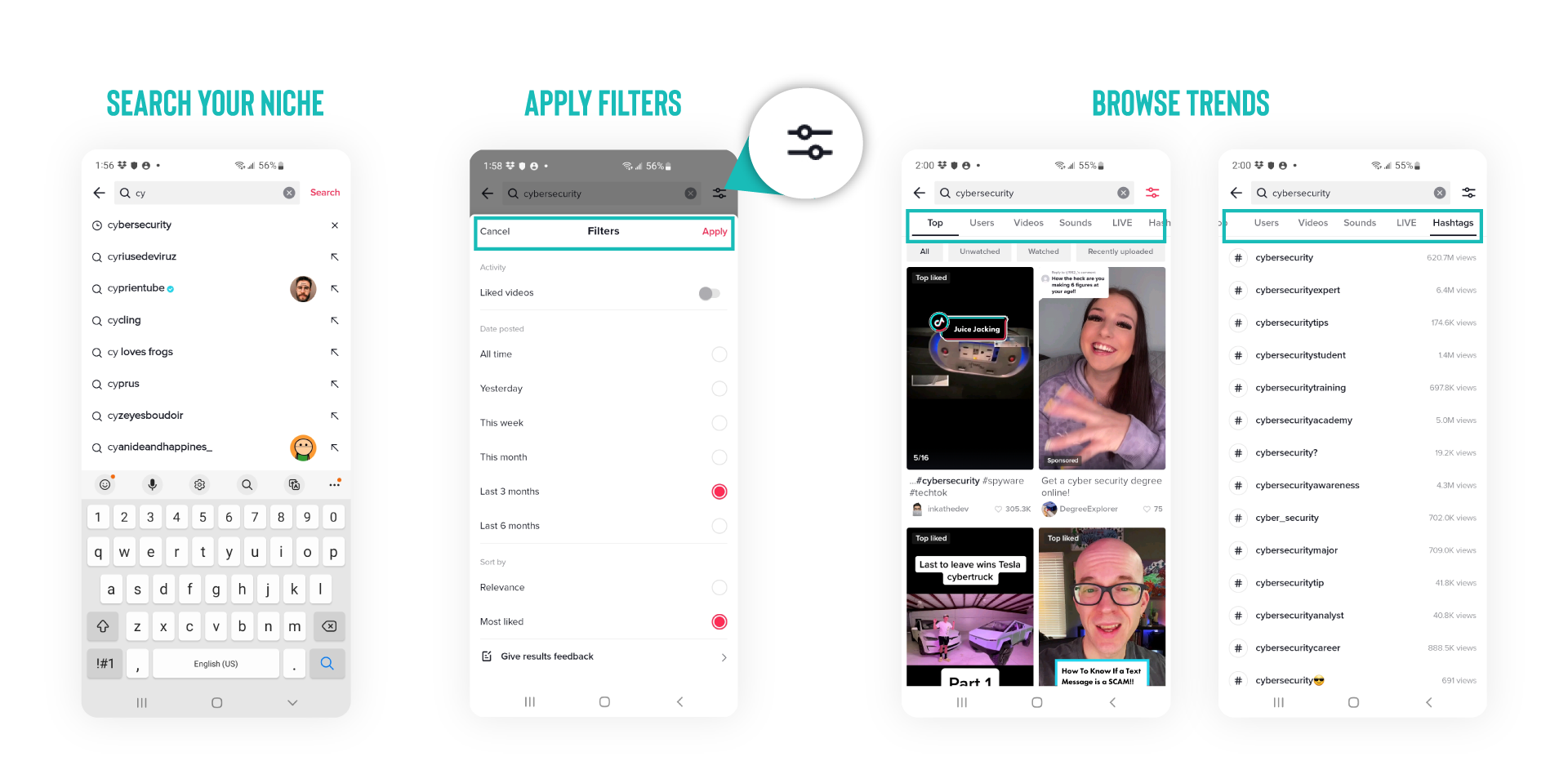 I like to shoot for 21 videos per week (posting 3 per day) using a combination of:
Education – 60%
Entertainment – 20%
Inspiration – 10%
Promotion – 10%
The best videos for me tend to be edu-tainment. 
I also like to film batches of content that I can use throughout the week rather than filming and editing everyday.
Before posting, here is a quick checklist I like to use:
Add trending audio
Add captions
Add text and stickers
Add description in the first 5 seconds of the video
Add cover image
Add relevant hashtags (copy and pasted from my notes app)
Add a description with keywords
@ mention and tag any relevant people
Creating content that your audience wants to consume is difficult. From planning, ideation, filming, editing, posting… It's time consuming and there's no way of knowing what will resonate. So, the ROI (or ROE – Return on Effort, or Energy) can be low.
However, there is a way to reduce your effort while stacking the odds in your favour. Once you have a bunch of videos, you can repost, remix, repurpose.
Repost – Reposting the same content on a different day, different time, different audience may = different result.
Unlike other platforms, with TikTok, you do not run the risk of post fatigue or annoying your audience since 90% of your followers do not see your posts. So if you post the same thing over and over, it will mostly go to a new audience who has never heard of you and has never seen that post before.

Past flops can be future hits. Just because a video didn't perform in the past, it doesn't mean it still can't go viral. One of my posts did about 1,000 views, but I believed it could do better. I reposted it and today it is one of my best performing posts with over 100,000 views.
Remix – Another reposting strategy is to remix old posts. You can edit it differently, rescript and re-record the audio, add different visuals, switch up the intro, change the music, use a different cover image, different title and hashtags, etc.
Remixing old content can be highly effective. I like to keep the "3-second rule" top of mind. That is, make sure you have a really strong hook in the first 3 seconds. If you look at your analytics, a huge portion of the viewers will skip onto the next video if you don't capture their attention in the first three seconds. You need something to switch up or disrupt the rhythm. You can use a shocking statement, a jump cut, change in audio… This often tricks the brain into thinking something exciting is happening, and the viewer feels compelled to stick around to find out what it is.
Repurpose – One trick you can use to get more CTR on your ads is to repurpose high-performing organic content as ads. The content that performs the best may be a good candidate to get engagement and click-through as an ad since it has already been tested and proven.
You may also want to remix it so that it becomes more transactional. For example, at the end you can say something like, "If you're looking for <XYZ>, then click the link to <learn more / book a call / sign up for a free trial…>"

Tips for making the TikTok algorithm work for B2B
We already spoke about trend jacking, but there are other ways to game the system to your advantage. Here are some tips:
Post at least three times per day, and be consistent! You can batch record the videos
Use popular and trending hashtags, including #foryou #foryoupage #fyp
Posting original audio videos do really well (you speaking in front of the camera)
Focus on the first three seconds to hook the user. Give them a promise of what they can expect. For example, "Want to know 3 ways to increase your work productivity…)
Repost older well performing videos
Search your niche to see what videos (or topics) are going viral
Add text in your thumbnail so that users going to your feed know what the video is about without having to click on it
Click on the Add Captions so that hearing impaired or people who want to consume content without the volume can still follow along
If you are a business, don't pin your most viral content at the top. Instead, use the pinned videos to introduce yourself or your business, and what problems you solve
Have a niche. Don't post about recipes, and then financial advice, then your day at the beach… TikTok (and your following) will have no idea who your account caters to
A view is counted when a user watches the full video. If they watch your video more than once, then it counts for multiple views. To get a user to watch one video more than once, you can:
Place multiple videos in one (imagine four videos in a grid). This forces users to rewatch multiple times so they catch everything
Loop the last sentence and the first sentence together so people don't know where the video starts and stops. For example, your last sentence is "…that's why," and your first sentence is, "you have to…" so your ending blends into your beginning to sound like, "that's why you have to…"
Have lots of really fast-moving images that people aren't likely to catch on the first viewing
Incorporate a chunk of text in the middle of your video that someone has to read. They may not catch it all on the first viewing
Add trending songs, but reduce the volume, or mute it completely. You'll technically be using the song, but nobody will be able to hear it
Use search and begin typing the title of your video. TikTok will populate the most commonly used search terms. Use those exact phrases in your title and description, hashtags, and in your video
If you give lists, such as "3 Tips Do To…", then you can add the text in post in the video where each tip appears